November 20th (Wed.), 2013 <I3DS-J Commendation Ceremony 2013>
I3DS-J has been organizing Lumiere Japan Awards to commend outstanding 3D works in Japan. In this year, I3DS-J started a new section, Good Practice Awards, to commend practical activities contributing to the growth and widespread of 3D media. In the ceremony, lectures by the winners of Good Practice Awards, and screening winning works of Lumiere Japan Awards etc. were performed.
---
Opening
In the opening session, activities of I3DS-J and I3DS, and the outline of the 3DU-J 2013 were introduced.

Takashi Kawai (Japan Committee Chair of I3DS) , Jim Chabin (President of I3DS)


---
I3DS Good Practice Awards 2013
Good Practice Awards was newly established in order to commend outstanding practical activities focusing and utilizing the characteristics of 3D media. A memorable first year, four awards were presented to the following activities.
Prize
Evaluation of fatigue caused by watching 3DTV
Ultra-Realistic Communications Forum (URCF)

Hiroshi Ando
(National Institute of Information and Communications Technology)
Outline of lecture:
Evaluation experiments were conducted consisting of 500 adult participants watching 3D programs on commercially available 3DTVs. The degree of fatigue after watching the 3DTV was evaluated under various viewing conditions based on objective and subjective indexes of fatigue.
---
Prize
Stereoscopic 3D Content in Education
META Corporation Japan Ltd.

Eiji Takaoki
(META Corporation Japan Ltd.)
Outline of lecture:
Stereoscopic 3D is absolutely essential in education. If you know the 3D shape of something, you can recognize it correctly from its 2D image. But, it is impossible if you don't know. In the field of education, so many things are unknown by learners. You will experience the essentiality of stereoscopic 3D images of objects unknown by you in this presentation.
---
Encouragement
Prize
3D Caravan - Education of Mudflow-Prevention
Afforestation and Forestry-Road Association of Hyogo



Takamasa Ohta
(Afforestation and Forestry-Road Association of Hyogo)
---
Encouragement
Prize
Creation and Appreciation of One's Own 3D Content
STEREO CLUB Tokyo

| | |
| --- | --- |
| STEREO CLUB Tokyo | |
---
I3DS Lumiere Japan Awards 2013
Lumiere Japan Awards has been promoted since 2011 in order to increase and improve 3D content by commending outstanding works in Japan. Winners of this year were announced at the ceremony. You can check the winners
here
.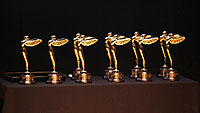 November 21st (Thu.), 2013 <3D University Japan Seminar 2013>
3DU-J seminar is educational events by I3DS-J and has been held since 2011 every year. In this year, distinguished creators and business persons were invited from inside and outside the country in order to introduce the latest 3D technologies and trends with 3D screening.
---
Stereoscopic Representation in Animation Film "009 RE:CYBORG"
Tomohiko Ishii
(Production I.G., Inc.)
Outline of seminar:
"009 RE:CYBORG" is one of few feature animations using 3DCGI in Japan. "009 RE:CYBORG" was released in stereoscopic 3D feature film and became topical. In this seminar, the production flow from planning to screening will be introduced.
---
Complete Projection of "SPACEPIRATE CAPTAIN HERLOCK"
Shinji Aramaki
(Animation director, Mechanical designer)
Kunihiko Mita
(Q-TEC, Inc.)
Yumiko Abe
(Q-TEC, Inc.)
Outline of seminar:
Shinji Aramaki, director and Kunihiko Mita and Yumiko Abe, Stereoscopic 3D directors from Q-Tec, Inc., Japanese leading 2D-3D conversion / post-production company, will explain about the production and technology of the epic 3DCG animation film, "SPACEPIRATE CAPTAIN HERLOCK" which was released on September 7th, 2013, including the camera work and composition suitable for 3D, why 2D-3D conversion was chosen and the result of it, the stereo-rendering cuts which amounted to 5%, the multipath materials which were selected in consideration of reflection, the workflow of 2D-3D conversion, etc.
---
Making 3D Matter
Adam May
(Vision3, Head of Production)
Outline of seminar:
As Gravity opens to record 3D business worldwide, Vision3 Head of Production Adam May examines the film's unique and in depth approach to 3D and the lessons we must take forward with future projects.