| | |
| --- | --- |
| | December 4th – 5th, 2014 Akihabara UDX Theater |
December 4th (Thu.), 2014 <I3DAIS-J Commendation Ceremony 2014>
I3DAIS-J has been organizing Lumiere Japan Awards to commend outstanding 3D works in Japan. From last year, I3DAIS-J started a new section, Good Practice Awards, to commend practical activities contributing to the growth and widespread of 3D media. In the ceremony, short presentations by the winners of Good Practice Awards, and screening winning works of Lumiere Japan Awards etc. were performed.
---
In the opening session, activities of I3DAIS-J and I3DAIS, and the outline of the 3DU-J 2014 were introduced.

Takashi Kawai (Japan Committee Chair of I3DAIS), Jim Chabin (President of I3DAIS)


---
| | |
| --- | --- |
| ■ I3DAIS Good Practice Awards 2014 | |
Good Practice Awards was established in order to commend outstanding practical activities focusing and utilizing the characteristics of 3D media. In this year, 4K category was newly added, and eight awards were presented to the following activities.
●3D Good Practice Awards
Prize

Producing 8K3D content



 NHK Media Technology, Inc.



Akihiko Chigono
(NHK Media Technology, Inc.)



Prize

SEGA 3D Classics



 SEGA Corporation



Yosuke Okunari
(SEGA Corporation)


Naoki Horii
(M2 Co., Ltd.)



Prize

Promotion of 3D images in remote medicine



 Ultra-Realistic Communications Forum (URCF)



Yasunori Nakamura
(FA System Engineering Co., LTD.)



Encouragement Prize

An approach to the Stereoscopic Projection Mapping



 AmbientMedia



Satoshi Machida
(AmbientMedia)



---
●4K Good Practice Awards
Prize

<BRAVIA 4K × L'Arc~en~Ciel> Feel 4K with L'Arc~en~Ciel !



 Sony Music Lbels Inc.
 Sony Marketing (Japan) Inc.
 Sony PCL Inc.



Prize

Suite JAKMAK by Taro Hakase & Umewaka Gensho, played and seeded at the world heritage 'Kamigamo Shrine'



 Asahi Satellite Broadcasting Limited



Prize

4K60P MUSIC VIDEO "Perfume DISPLAY"



 Panasonic Co., Ltd.



Prize

Panasonic 4K Promotion Video "Liberation"



 Panasonic Co., Ltd.



---
| | |
| --- | --- |
| ■ I3DAIS Lumiere Japan Awards 2014 | |
Lumiere Japan Awards has been promoted since 2011 in order to increase and improve 3D content by commending outstanding works in Japan. Winners of this year were announced at the ceremony. You can check the winners
here
.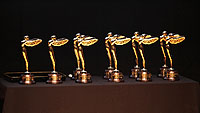 December 5th (Fri.), 2014 <3D University Japan Seminar >
3DU-J seminar is educational events by I3DAIS-J and has been held since 2011 every year. In this year, distinguished creators and business persons were invited from inside and outside the country in order to introduce the latest 3D and 4K content, technology and business with 3D screening.
---
Seminar 1 "Research on understanding 4K image experience"
Toyohiko Hatada
(Tokyo Optometric College)
---
Seminar 2 "Producing 4K and 3D content"
Simon Craddock
(ONSIGHT)
---
Seminar 3 "3DCG animation and stereoscopic effects in 'STAND BY ME DORAEMON' "
Ryuichi Yagi
(SHIROGUMI Inc.)
Hanabusa Makoto
(SHIROGUMI Inc.)
Takeyuki Suzuki
(SHIROGUMI Inc.)
Kenji Sakota
(OMNIBUS JAPAN Inc.)
Nobuaki Abe
(Quality eXperience Design Co., Ltd.)
---
Seminar 4 "Highly dynamic world of 3D film production"
Matthew Blute
(Stereographer)